In the fall semester of my 3rd year of PT school, I asked my research professor if our group would be able to present our research at the Combined Sections Meeting in New Orleans in February 2018. Thankfully he gave me and my two classmates the opportunity to present a platform presentation at CSM. I immediately bought my ticket and began planning for the trip!
CSM 2018 was the first national PT conference that I've been able to attend. I attended the Maryland APTA's annual fall conference as a 2nd and 3rd year student, but that is the extent of my experience with PT conferences. Needless to say, I was so excited to attend courses and network with other therapists and students from all over the country!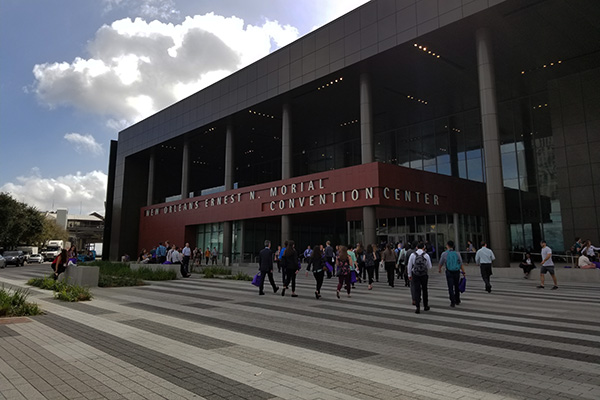 Preparation for the conference
My classmates and I spent most of January and February preparing for our platform presentation, which included searching for and reading journal articles, creating a Powerpoint presentation, and practicing our presentation numerous times with our professor and fellow classmates.
We booked our flights about a month in advance, which I don't recommend to wait so long. I had my eye on a much cheaper flight from a closer airport, but the seats filled up and we had to fly out of a much further airport and pay for parking.
When deciding which events to attend, I felt a little overwhelmed by all the options. My #1 was to network with as many people as possible, and #2 was to attend as many interesting courses as I could. Unfortunately, many networking events occurred during courses, so I had to pick and choose between all the available options.
To help organize all the events, we made a google doc of all the APTA sponsored events and additional events that were promoted via Facebook and Twitter. It was really helpful to see all the events laid out by time slot, so I could better plan my time.
Here's a view of part of the google doc:

Wednesday
We landed in New Orleans around 8PM, and took an Uber to our hostel. Upon arrival, we learned that one of the showers was broken, while the other shower only had freezing cold water. Let me tell you, my shower lasted only 45 seconds before I was shaking and miserable, so I ended up washing my hair in the bathroom sink. The hot water was back on the following day, and I've never appreciated a hot shower more than that moment.

Thursday
One of my classmates and I woke up at 5am to get ready for the Academy of Pediatrics Breakfast Meeting that started at 6:30am. Unfortunately, I was too excited and definitely got less than 4 hours of sleep total. I was able to network with a few physical therapists and students.
We attended a course on Early Motor Interventions for Preterm Infants, which was a little bit more than my brain could comprehend off of little sleep.
During our lunch break, we attended the CSM Secret Event hosted by Dr. Ben Fung and Dr. Gene Shirokoblod. Talks like these are literally what CSM should be about. I learned so much valuable advice from these two individuals, and they definitely made me rethink my entire view of not only the entire conference, but the rest of my career.
The evening course I attended was about global health. It was presented in the style of a Ted Talk with incredible speakers sharing their stories of helping others globally and locally. Emma Stokes filled in for one of the speakers, and she gave the most inspirational talk that I heard during the entire conference. If you don't know who she is, I recommend that you learn more about her!
That night I volunteered with PT Pub Night for a few hours. I was a social media intern for PT Pub Night for 6 months, and was so excited to finally meet Ben, Tannus, and the other interns in person. It was pretty crazy right when we started at 6PM because we were making sure people signed in for the Check-In challenge while handing out free T-shirts to the first 100 people in line. The rest of the night flew by, and I was able to meet so many people and experience the truly amazing atmosphere of a PT Pub Night at such a large national conference.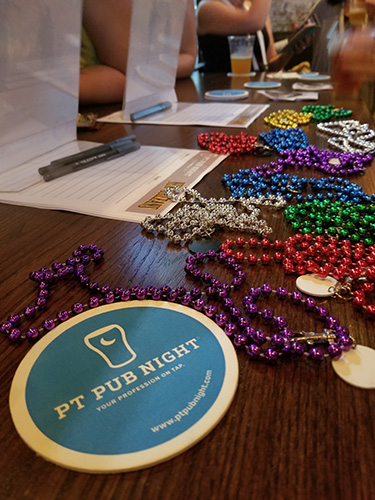 Friday
In the morning, my classmates and I attended our professor's course entitled "Integrating Dance Into Best Practice Interventions for Older Adults". It was such a fun presentation, and it was awesome to see how great of a presenter at a national conference. Attending this course definitely made us feel lucky to have such a great professor at UMES.
Here's a brief video I took when we were practicing to dance with our patients:
Dance with your patients! #APTACSM #OldNOTWeak pic.twitter.com/kI9s0nrS72

— Katie Avila, DPT (@KatieAvilaPT) February 23, 2018
My research group and I gave our platform presentation in the late morning. The presentation was about 20 minutes long, leaving an additional 5-10 minutes for questions. It was a great experience to speak about our research and about three community-based fall prevention programs. I could definitely see myself giving more presentations in the future.
Here's the title slide for our presentation:
We all attended lunch with our research advisor. It was the first time I had ever eaten jumbalaya, and it was delicious! I loved being able to get to know our professor a little bit better, outside of the typical academic environment.
Afterwards I visited my anatomy professor's research poster. It was pretty cool to walk around the posters for a few hours and get to speak with other students from different PT schools. I wish I had spent more time in this area.
That afternoon, I attended a course titled Neurodynamics 2.0: Pain, Plasticity, and Desensitizing the Nervous System. The course was mindblowing, and I felt like I was learning incredible information every 2 minutes. The room was also jam-packed, with a lot of people needing to sit on the floor.
That evening I attended the Leaders in Social Media panel. The event was an interview of 4 social media influencers, one of them a PT student. I recognized a lot of people who attended from following them on various social media platforms, so it was an incredible experience to be able to network with a few of them.

Saturday
In the morning, I attended "Coupling Timing and Dose of Therapy to Maximize Plasticity and Documenting It!" This was from the pediatrics section, and was really insightful for someone interested in working with kids. I learned a lot about how it's important to challenge kids and to frequently assess if your interventions are successful. That's true for all populations, but hard to remember sometimes when you're playing games with younger kids.
I spent the afternoon wandering around the exhibit hall. I was able to speak with travel PT companies, learned about a couple CEU providers, and grabbed some research journals to take home with me. It was really easy to get lost here, and I feel like you could easily spend an entire day in the exhibit hall.
The last class I took was Hospitalized Adults With Developmental Disabilities: Confronting Challenges. This course was really insightful regarding working with adults in an acute care setting. PT students don't get enough information about working with adults with developmental disorders, especially in the acute care setting.
In the evening, I attended #PTPodCastPalooza which was held at a local crossfit gym. The event was a podcast recording which interviewed hosts from several different potcasts. A lot of the attendees of the "Leaders in Social Media" also attended this event. I also met one of my best travel PT friends at this event who convinced me to attend TravCon later in 2018.

Sunday
CSM was officially over. However, my classmates and I decided to stay an extra day because airplane tickets were too expensive on Sunday.
We were able to spend the day walking around New Orleans. We walked by the water, listened to amazing music during the day, and continued to listen to music at night at Fisherman Street.
We sadly had to pack our bags and return to school on Monday morning. We arrived early enough that we drove 2 hours from the airport, straight to our afternoon classes.

Overall Thoughts
CSM was an experience that I was so thankful to have as a physical therapy student. It was a little stressful because we had to prepare for our platform presentation. CSM can also be pretty expensive, so I had to try to not worry about spending money and focus more on the benefits of the conference, which were well worth the costs.
I highly recommend that you attend CSM as a student. I was able to learn about so many new topics that aren't taught in physical therapy school, and was able to form many friendships with other physical therapists all over the country.
You won't regret attending.
---
Have you ever attended CSM? Would you have done anything differently?